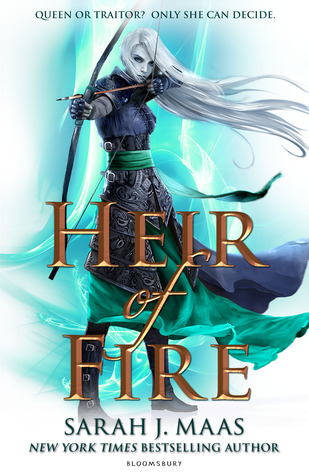 Title: Heir of Fire
(Throne of Glass #3)



Author: Sarah J. Maas




Release Date: September 11th,
2014




Consumed by guilt and rage, Celaena can't bring herself to spill blood for the King of Adarlan. She must fight back...
The Immortal Queen will help her destroy the King - for a price. But as Celaena battles with her darkest memories and her heart breaks for a love that could never last, can she fulfil the bargain and head the almighty court of Terrasen? And who will stand with her?
I thought that the ending of
Crown of Midnight
finished with a cruel cliffhanger (read my
review here
), but oh no, Sarah J. Maas upped the ante with
Heir of Fire
. It left me blown away and more than a little stunned with a whole load of questions.
I am definitely of the opinion that the books in the
Throne of Glass
series just keep getting better (and longer). I pretty much read Heir of Fire over one weekend, I found that I just did not want to put it down, and it had me reading long into the night!
In Heir of Fire Celaena is no longer in Adarlan in the King's palace. I really liked that we got to see a new country, a whole new setting that just shows how great Sarah J. Maas is at world building. The introduction and exploration we as readers were able to experience of Wendlyn in my opinion added greater depth to the world that the Throne of Glass books are set in. Wendlyn has a key element that Adarlan does not posses, and that is magic. There has been talk of magic throughout the first two books, but after magic was banned and disappeared completely there was no real sight of it in the previous books. Heir of Fire saw the use of magic and Fae forms and I loved learning about it all!
Heir of Fire introduces new characters and new POVs. We get a whole new set of characters in the form of witches, in particular Manon. Manon is the heir to the Blackbeak clan and follows form as another strong female character crafted by Sarah J. Maas. I really enjoyed reading Manon's chapters, they definitely served to create a greater understanding of what the hell is going on with the King and they wyrdstones.
In addition to Manon, we also meet Aeidon and Rowan, both Fae males. The dynamic between Aelin and Rowan was enjoyable to read, I could sense the chemistry between the two and I'm looking forward to seeing their relationship develop further in Queen of Shadows. I liked Aeidon. I liked him more than Dorian and more than Chaol. I want more Aeidon, and I'm not ashamed to admit it!
I am really looking forward to reading Queen of Shadows very soon! What do you think of the series so far? Let me know in the comments!
'Heir of Fire' by Sarah J. Maas
5 Stars
Labels: 2016, 5 Stars, Book, Crown of Midnight, Heir of Fire, Published 2014, Review, Sarah J Maas, Throne of Glass, YA, Young Adult, Young Adult Fantasy